ExCite: Enabling SoCial Interaction Through Embodiment
The main objective of ExCITE project is to evaluate user requirements of social interaction that enables embodiment through robotic telepresence. This evaluation is performed in situ, on a PanEuropean scale and with a longitudinal perspective. An existing prototype is deployed to the targeted endusers, and is refined by tightly involving the users in the development cycles of the prototype hroughout the project.
To perform the user based evaluations, a stage one prototype will be deployed to the targeted endusers. The prototype is called the Giraffe system and consists of a screen and web camera mounted on a simple robotic base that can be teleoperated. The camera and screen is a pantilt unit which enable a greater and controllable field of view and the height of the unit is easily adjustable.
The project involves different academic and SME organizations from Sweden and Italy.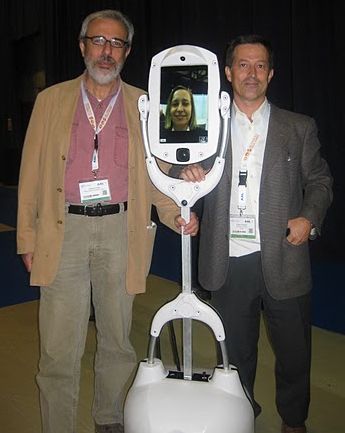 REFERENCE: PS09/02678
TITLE: ENABLING SOCIAL INTERACTION THROUGH EMBODIMENT
PRINCIPAL RESEARCHER:JAVIER GONZÁLEZ-JIMÉNEZ
PARTICIPANTS: UNIVERSITY OF ÖREBRO (SWEDEN), GIRAFF AB (SWEDEN), CONSIGLIO NAZIONALE DELLE RICERCHE IST (ITALY, UNIVERSITY OF MÁLAGA, RATIOCONSULTA SpA (ITALY), ÖREBRO CITY COUNCIL (SWEDEN).
FUNDER: AAL (AMBIENT ASSISTED LIVING) PROGRAM (UE). INSTITUO DE SALUD CARLOS III
DURATION: JULY 2010- JUNE 2013