MoveCare: Multiple-actOrs Virtual Empathic CARgiver for the Elder
MOVECARE aims at supporting the independent living of the elders at home; monitoring their daily activities while promoting their cognitive, physical, and social activities. The MAPIR group is the leader of one of the workpackages of the project with the goal of enhancing the Giraff robot, turning it into an autonomous actor within the MOVECARE framework.
Navigational, perceptual, and interaction skills are the key points in order to endow a mobile robot with the needed abilities to assist elder people at home. The MAPIR group leads the Workpackage 4 with this aim, coordinating the efforts of 11 partners, from which the Universities of Oxford, Plymouth, and the Abacus company are, with the MAPIR group, the task leaders. The major output of this workpackage is the development of the robot abilities to (i) perform safe, reliabily and fully autonomous within home environments, (ii) densenly reconstruct and label both the static and dynamic elements of the environment around the user (referred below as geometry and object semantics), and (iii) recover and recognize user movements and gestures (user semantics).
The project's Kick-off meeting was held in Milan by the University of Milano in January 18th and 19th: two intense days of presentations, talks and brainstorming to start the ambitious tasks included in MoveCare. There, the partners found a great opportunity to gather together and exchange ideas, concerns and collaboration plans for the next months. We also had the opportunity of visiting KORIAN facilities and some of their flats that are set up for elders. Next meeting will be held in Extremadura by the Consejería de Salud y Política Social (Junta of Extremadura) in April.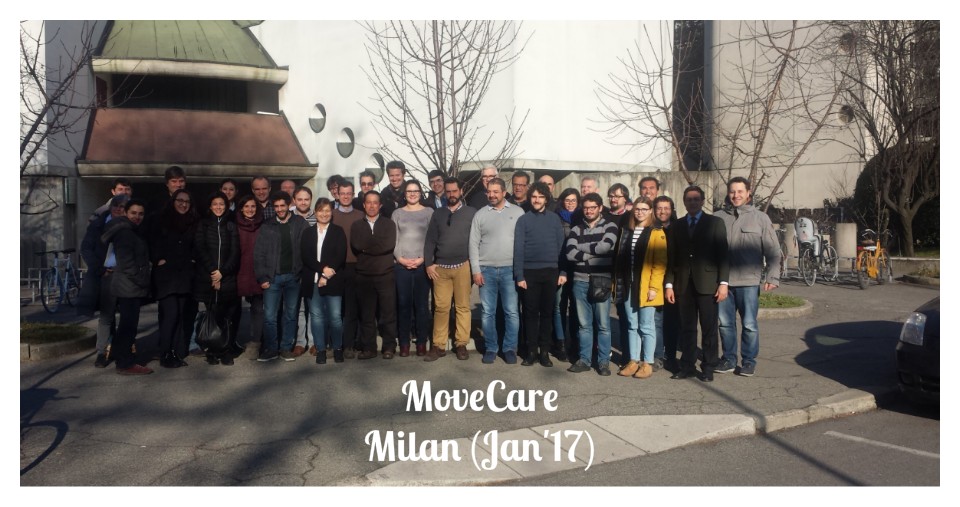 In this first months of the project, several media have talked about the project (in Spanish):
REFERENCE: 732158
PERIOD: Jan 2017 – Jan 2020
PRINCIPAL RESEARCHER: JAVIER GONZÁLEZ-JIMÉNEZ
FUNDED BY: Call: H2020-ICT-2016-2017
PARTICIPANTS: UNIVERSITA DEGLI STUDI DI MILANO (Italy), AB.ACUS SRL (Italy), FONDAZIONE IRCCS CA' GRANDA OSPEDALE MAGGIORE POLICLINICO (Italy), FUNDACIO EURECAT (Spain), JOICECARE AB (Sweden), SIGNALGENERIX LTD (Cyprus), POLITECNICO DI MILANO (Italy), SMART COM DOO INFORMACIJSKI IN KOMUNIKACIJSKI SISTEMI (Slovenia), CONSEJERIA DE SANIDAD Y POLITICAS SOCIALES – JUNTA DE EXTREMADURA (Spain), OREBRO UNIVERSITY (Sweden), UNIVERSITY OF PLYMOUTH (United Kingdom), UNIVERSIDAD DE MALAGA (Spain), THE CHANCELLOR, MASTERS AND SCHOLARS OF THE UNIVERSITY OF OXFORD (United Kingdom), KORIAN (France).